Page 16 of 16 •
1 ... 9 ... 14, 15, 16
First topic message reminder :

This Tory-dominated government claims there is no alternative to austerity. Below, nine leading economists, including a Nobel Prizewinner and one of the Chancellor's own advisers, say that's wrong - and offer a different path:-

Cut VAT back to 17.5%
Christopher Pissarides
Agree financial transaction tax
Jeffrey Sachs
Reduce NI contributions
David Blanchflower
Print money for the public
Sushil Wadhwani
Start a national investment bank
Robert Skidelsky
Lift the cap on immigration
Jonathan Portes
Lend directly to small businesses
George Magnus
Launch a green new deal
Ann Pettifor
Set up a recovery fund
Christopher Allsopp

For the details of each of those suggestions, click on the links on this page:-
http://www.newstatesman.com/economy/2011/10/alternative-coalition


---

oftenwrong

Sage




Posts

: 11750


Join date

: 2011-10-08



People who thought things would get better once we'd ditched Gideon, may have celebrated too soon. Here's an instructive piece of journalism: "At the beginning of March, Philip Hammond will present his first spring budget. (It will also be his last because the chancellor has announced an intention to move the whole ritual to autumn.) "Spreadsheet Phil" is not really that different to his predecessor in his fiscal hawkishness. Colleagues running spending departments who agitate for some loosening of tight budgets receive a lecture from the chancellor about Britain's "eye-wateringly large debt". The government's fiscal position has been deteriorating over the past 12 months."

http://www.msn.com/en-gb/money/news/why-some-tories-fear-blood-on-the-streets-in-a-couple-of-years/ar-AAn87MX?li=BBoPWjQ&ocid=mailsignout

oftenwrong

Sage




Posts

: 11750


Join date

: 2011-10-08



Saw that - not a good time to be poor, working class or otherwise excluded from the 1%

We are moving back to a crueller time in history - and it seems no-one knows how to stop the slide

boatlady

Administrator (Global Moderator)




Posts

: 3712


Join date

: 2012-08-24


Location

: Norfolk



Osborne, an 'editor of substance'. What substance, crystal meth?

Extracts from an article by Marina Hyde:-

What a privilege to be able to welcome George Osborne to the ranks of journalistic colleaguery. The former News of the World cover star and chancellor is the new editor of the London Evening Standard, a role he will combine with his jobs as MP for Tatton and being a £650,000-a-year escort for an investment fund. Osborne has now been a Tory chancellor, an investment banker and a newspaper journalist – a sequence whose next two terms are estate agent and serial sex killer.

It is a thrill to see Osborne finally get his break in journalism, over two decades after failing to get on the Times graduate trainee scheme. Bless him for keeping on plugging away – it's so easy to get discouraged by a setback like that. My advice to young journalists seeking to emulate his success is to consider adding a similar interest point to your own CV. Have you had experience of running an austerity con? Did you probably destroy the union? Pop those alongside your freelance local paper cuttings and see how you get on.

Announcing the appointment, the Evening Standard's preposterous proprietor, Evgeny Lebedev, declared: "I am proud to have an editor of such substance." What substance? Is it crystal meth? Amusingly – and presumably intentionally – Lebedev went on to underscore every criticism ever made of the Cameroons by describing Osborne as "London through and through". In many ways, of course, Osborne is perfectly suited to newspapers in this day and age. He has extensive experience both in failing to meet financial targets and in wildly misjudging his own relevance.

For the whole article:-
https://www.theguardian.com/commentisfree/2017/mar/17/george-osborne-editor-substance-london-evening-standard
I think we can be relaxed about Gideon taking on extra duties as long as he doesn't go on to acquire US nationality between now and the next Presidential election.

oftenwrong

Sage




Posts

: 11750


Join date

: 2011-10-08



I really don't understand how he can take on the editorship of a daily paper ( a full time job) while also keeping on his role as MP (also a full time job) alongside the other part-time gigs - that must be some serious shit his dealer is supplying _ actually I'd like some of that - currently doing 3 full days volunteering and catching up with the admin on my 'days off' as well as looking after mum, husband and two dogs - wonder if he'd put me in touch with his dealer?

boatlady

Administrator (Global Moderator)




Posts

: 3712


Join date

: 2012-08-24


Location

: Norfolk



Hold the front page!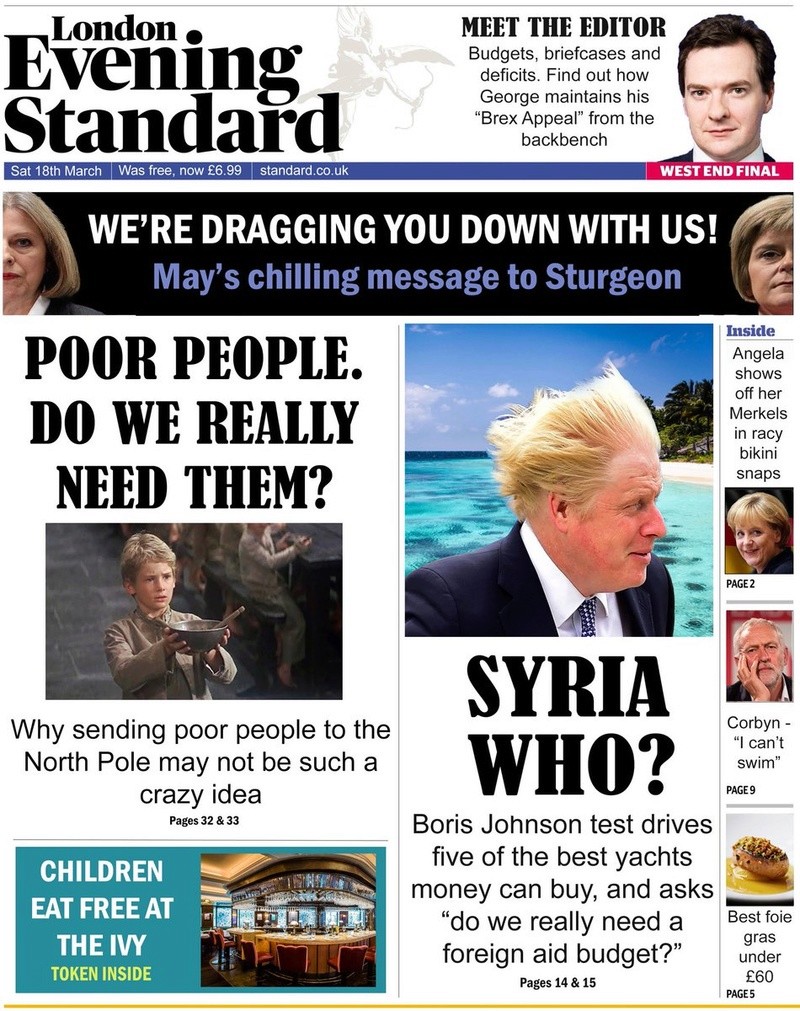 https://pbs.twimg.com/media/C7J6PUdXwAARiQv.jpg
KnutsfordNews:

The first ever Zero Hours MP - you just can't make this stuff up!

oftenwrong

Sage




Posts

: 11750


Join date

: 2011-10-08



Page 16 of 16 •
1 ... 9 ... 14, 15, 16
---
Permissions in this forum:
You
cannot
reply to topics in this forum