Page 28 of 28 •
1 ... 15 ... 26, 27, 28
First topic message reminder :
EUROSCEPTICS & UKIP CANNOT ANSWER THESE QUESTIONS
In the late 1980s the nations of the European Free Trade Association (EFTA) began to seriously contemplate joining the EU, there were many reasons for this, but they included the realisation that it was the only way forward for trade and prosperity, in the case of Sweden it was also the fact that several large companies made it clear they would relocate if Sweden stayed outside the EU.
Current EFTA members: Iceland - Lichtenstein - Norway - Switzerland
EFTA members who joined the EU: - Austria - Denmark - Portugal - Sweden - United Kingdom - Finland
In 1994 the European Economic Area was formed (EEA), this was a compromise organisation for those members of EFTA who did not or could not join the European Union, joining the EEA meant access to EU markets, but the deal also meant accepting EU rules, even though these states were not / are not EU members.
THE QUESTION TO THE EUROSCEPTICS IS THIS: After leaving the EU, would the UK be free of all EU rules, regulations, directives and laws?
And the straighforward answer is: NO  and here is why:-
A meat production company in Lincolnshire is close to signing a multi-million pound deal with a European supermarket chain, just before the two managing directors take out their pens to sign the agreement, the boss of the supermarket chain pulls out a list of conditions.
The list of conditions consist of EU rules, unfortunately Britain has left the EU and unless the British meat producer conforms to EU standards the deal cannot go ahead, the rules cover everything from animal welfare, temperature control, employee rights, labeling, weight, moisture content and hygiene.
So no matter what happens in the future, the UK will always have to accept EU laws
Think of Norway as an example of a European nation outside the European Union, Norway is a member of the European Economic Area ( the EEA ), and as such has to accept into law virtualy every EU rule, regulation, directive and law, furthermore Norway has had to sign up to many of the EU treaties.
Norway has no say and no vote on any of the EU legislation which it accepts, and this is exactly how Britain would end up, inside the EU the UK influences legislation, it does have a say, and it does have a vote, unlike Norway.
A FREE TRADE AGREEMENT "JUST LIKE SWITZERLAND" [ Nigel Farage ]
According to UKIP, the future under them would be simple, all we need to do is leave the EU and sign up to a new free trade agreement, and the future would be bright  

, but a free trade agreement ?, lets look at that word "agreement", an agreement is not one sided, it is between the parties that make the agreement, and lets face facts here, the EU will call the shots, not Britain.
The European Union is not going to change its rules to cater for a single nation of 60 million, especialy when that nation has left the EU but still wants all the benefits of belonging, namely trade.
I am afraid that under such circumstances, Germany, France, Italy and the rest would say "our way or not at all", the best solution by far is to simply remain within the EU and go forward into the future together.

witchfinder

Forum Founder




Posts

: 703


Join date

: 2011-10-07


Location

: North York Moors



---
The Observer view of Britain's shambolic Brexit negotiations
Extracts from an 'Observer' editorial:-
Boris Johnson, is busy losing a personal battle with Iran over his gross mishandling of the case of Nazanin Zaghari-Ratcliffe, the British-Iranian woman jailed in Tehran on fabricated charges. Johnson lacks the sense of responsibility and gravitas required for his job. Theresa May picked him because, after the Brexit referendum, she could not refuse him a senior post. He has repeatedly proved himself unworthy of the honour. May should show some teeth – and sack him.

The Johnson embarrassment is but one of many unfortunate by-products of Britain's biggest problem: Brexit. May and her Crazy Gang cabinet appear not to grasp the dismaying extent to which the UK's views are now dismissed, ignored and ridiculed on the international stage. As Britain flounders under the baleful influence of a clique of Tory hard Brexiters, the diminution of its global reputation proceeds apace. What is the world at large to make of a leader who is so clueless and lacking in authority that a senior minister, Priti Patel, can parade around Israel like a PM-in-waiting, holding high-level talks and peddling controversial initiatives at a sensitive juncture, all apparently without her knowledge or agreement?

May's government is a chronic shambles; even its Tory press supporters admit as much. But so, too, undeniably, are the Brexit negotiations. Last week's talks, rather than forging consensus on issues of money, citizens' rights and the Irish border, revealed widening differences. Michel Barnier, the EU negotiator, has now given Britain two weeks to find solutions. Yet there is David Davis again blithely claiming that progress is being made, while pleading for Europe's political leaders to rescue him. He has made a monumental mess of things and should be replaced.
https://amp.theguardian.com/commentisfree/2017/nov/11/observer-view-on-britains-shambolic-brexit-negotiations
'Make it easier to hire and fire people' and scrap corporation tax, says Sir James Dyson
http://www.msn.com/en-gb/money/news/make-it-easier-to-hire-and-fire-people-and-scrap-corporation-tax-says-sir-james-dyson/ar-BBERNyS?li=AA54rU&ocid=iehp

oftenwrong

Sage




Posts

: 11992


Join date

: 2011-10-08




oftenwrong

Sage




Posts

: 11992


Join date

: 2011-10-08



In 1995, 89 Tory MPs voted for this headbanger to become PM....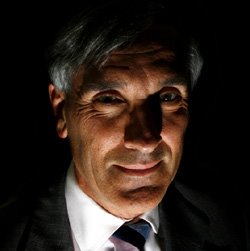 Source: Twitter
John Redwood criticised over advice to pull money out of UK

From an article by Jessica Elgot:-
Labour has criticised the arch-Eurosceptic MP John Redwood for "talking down Britain" after he recently wrote a column of financial advice in which he recommended investors "look further afield" because of the state of the UK economy.

In the piece for 'The Financial Times, Redwood – who has a £180,000 second job as chief global strategist for Charles Stanley – said the European Central Bank was promoting faster growth when the UK was seeing a squeeze on credit. The piece was published on 3 November but came to greater prominence after a scathing comment piece was published by a Forbes commentator, Frances Coppola, who wrote that the MP had "advocated a course of action by the UK government that he knows would seriously damage the UK economy".

Tom Brake, the Liberal Democrats' Brexit spokesman, criticised the column, calling the advice "sheer hypocrisy" from an MP who had promoted leaving the EU. "He is advising investors to move their money out of the UK, all the while pushing in Parliament for a destructive hard Brexit that would see even more investment desert the country."
https://www.theguardian.com/politics/2017/nov/13/labour-accuses-john-redwood-of-talking-britain-down
No wonder John Redwood backs Brexit. He will make money out of it, after all
From an article by Joris Luyendijk:-
When, in a few years, a public inquiry is held into the economic, financial and monetary debacle that is by then Brexit, one of the easier targets will be the Tory MP and Brexit cheerleader John Redwood.

To successfully cleanse British politics of its clowns and crypto-fascists this future inquiry ought to definitively discredit Brexit's chief proponent, Boris Johnson, in the way that the Iraq war inquiry did to Tony Blair. Impulsive and unable to concentrate on anything complex, Johnson does not even care whether he is right or wrong – as long as it plays well with the billionaire-owned far-right press that built him up. Redwood, however, is a very different kind of Brexiteer, given his oft-touted decade-long career in the City.

Redwood should know that the UK cannot logically leave the customs union without the erection of a hard border between Northern Ireland and Ireland. He should know it is logically impossible to maintain his country's current smooth and frictionless trade with the EU single market without accepting the rules and court that hold this single market together. And he should know that according to international law the UK is obliged to settle its outstanding obligations to the EU – the misnamed "Brexit bill". And yet his countless tweets tell the opposite story.

Who is the real Redwood: the man forever emphasising how well Britain is going to do out of the EU – or the man telling investors to shift their cash out of the country?
https://www.theguardian.com/commentisfree/2017/nov/14/john-redwood-brexit-money-britain-eu
How can you tell when a Politician is lying?

You are able to see his lips moving.

oftenwrong

Sage




Posts

: 11992


Join date

: 2011-10-08



We can but dream......
The plot to stop Brexit
Extracts from an article by George Eaton:-
Five months after the Brexit talks began, the EU has yet to open discussions on a new UK trade deal. Theresa May has been forced to concede that there will be a two-year "transition period" from 29 March 2019, the date set for the UK to leave the EU, during which little will change. But in Europe, as well as in Britain, there is an increasing belief that the UK may not, in the end, leave.

After the shock of the referendum result, Remain MPs have regrouped. The All-Party Parliamentary Group on EU Relations, founded by Chuka Umunna in July and co-chaired by Anna Soubry, is the main vehicle for their activities. Amendments to the government's EU Withdrawal Bill have been meticulously co-ordinated to ensure maximum impact. Beyond Westminster, some of Britain's most senior politicians have opened back channels to Brussels. On 30 October, to the consternation of Brexiteers, Michel Barnier, the EU's chief negotiator, met Nick Clegg, Andrew Adonis and Ken Clarke. During their Brussels meeting, Clegg impressed upon Barnier how "extraordinarily fragile and febrile" British politics was. Barnier, who had met with Jeremy Corbyn for 80 minutes earlier in the month, is mindful that the Conservative government could collapse.

If Remainers have refused to accept the referendum result, it is partly because they know that their opponents would have done the same in different circumstances. Back in 2016, Nigel Farage warned that a 52-48 Remain victory (the margin by which Leave won) would be "unfinished business by a long way". EU supporters cite the words of Brexit secretary David Davis in 2012: "If a democracy cannot change its mind, it ceases to be a democracy."
https://www.newstatesman.com/politics/brexit/2017/11/plot-stop-brexit
Paradoxically, "Remainers" of whatever political complexion are troubled by much the same sort of problem as there was in Zimbabwe.  A plainly broken government needed to be forced to change course - but without breaching the fundamental principle of Democracy.

They seem to be achieving that in Harare, so why can't Westminster?

In co-operation with EU negotiators, the howling Brexiteer mob should be presented with an offer they can't refuse.

oftenwrong

Sage




Posts

: 11992


Join date

: 2011-10-08



Page 28 of 28 •
1 ... 15 ... 26, 27, 28
---
Permissions in this forum:
You
cannot
reply to topics in this forum