BriSCA F1 Stock Car racing can trace its roots to the first stock car race in United Kingdom, which was held at New Cross Stadium in London on Good Friday, April 16, 1954. Since then it has raced continuously and held over 5000 meetings across the United Kingdom.
Originally, the cars were slightly modified saloon cars, hence the term stock as opposed to race cars. Most of the cars were American models with a V8 engine, although some were larger European cars. The cars were standard cars with wheel arches removed and with bumpers and roll bars added.
In the mid seventies, a group of southern based drivers broke away from the BSCDA (British Stock Car Drivers Association) and formed their own association, called SCOTA (Stock Car Oval Track Association). They raced for promoter Spedeworth International in cars exactly the same as BriSCA F1. In 1980, the southern drivers and Spedeworth decided to introduce a five litre limit, and make the cars slightly smaller. The 1980 formula (known as Formula 80) is still running today under the name of Spedeworth V8 Stock Cars.
[edit]Cars
During the 1960s, the cars developed from stock road cars into specially built cars with fabricated chassis and race-tuned V8 engines. While NASCAR also races specially-built race cars, they retain the appearance of a road car, unlike the BriSCA F1 which now bears no resemblance to a road car.
A modern BriSCA F1 is a race car with front engine, rear-wheel drive, and open-wheeled with the driver located centrally. Cars make use of an aerofoil mounted on top of the roof that is similar to those found on American Sprint cars. A BriSCA F1 Stock Car is constructed of a race engineering steel chassis with aluminium sheet body panelling and aerofoils (wings) with a robust roll-over/safety cage. They must weigh 1350–1500 kg and use a heavily modified Ford Transit rear axle with a 'Doug Nash' style gearbox with two forward gears (one for racing) and one reverse. The most common engine used, due to its reliability and availability, is a race-tuned American Chevrolet V8 engine in both small block (327 ci) 5.4 L and big block (454 ci) 7.4 L varieties, producing upwards of 740 bhp with approx 640 ft·lbs of torque. There is no limit in engine capacity or number of cylinders but engines must be naturally aspirated (no supercharging or turbocharging permitted). Cars can reach speeds of 80–90 mph around a quarter-mile oval so they use large roof aerofoils to help slow the cars down and create downforce on the corners to provide some extra cornering grip.
Many drivers use two separate cars; one will be set up primarily for use on shale or dirt ovals, while the other car will be set up for tarmac or asphalt ovals; however a few drivers with limited budgets may optimise just one vehicle for both surface types, changing various components for each different track and surface.
The World Championship is an annual competition and the premier stock car championship. The winner is granted the honour of racing with a gold roof and wing until the next World Final. The World Final is usually held in September. The host tracks, all of which are based in the UK, are chosen by the designated promoter.
The grid for the World Final is composed of drivers from the UK who are chosen through a series of qualifying rounds and two World Championship Semi-Finals. Drivers who fail to progress from the World Semi-Finals may race again in a Consolation Semi-Final to choose two more entrants, and the reigning World Champion is entitled to start at the rear of the grid if they have not already qualified. The UK drivers are joined by stock car drivers from the Netherlands, and by invited drivers in the nearest equivalent motorsport formulas from other countries often including Australia, New Zealand, South Africa and the USA.
The most successful driver in World Final races is John Lund, who has won eight. Other notable multiple winners include Stuart Smith (six), Andy Smith (five), Peter Falding (four), Johnny Brise (three) and Dave Chisholm (three).
Question, I starting going F1 Brisca racing with my mum at just 7 years old. I have taken all my children and wife with me and we all enjoy this as a great night or day out. as its sill cheap and all the drivers still make there cars or some of them do anyway. However, in the 1980s the UK media call Brisca car racing a poor working class sport and started to kill all TV and Media of covering it live on the TV.
Yet The UK has never lost one world final championship race nor ever lost the world championship cup sine 1954. do you believe that small sport today have no real chance to get any media backing if the sport like mine is call too working class? but at £35,000 a car its no working mans sport today but driven by working men and woman

Stox 16




Posts

: 1064


Join date

: 2011-12-18


Age

: 62


Location

: Suffolk in the UK




Stox 16




Posts

: 1064


Join date

: 2011-12-18


Age

: 62


Location

: Suffolk in the UK



MY GOOD FRIENDS CAR 22 WILL YARROW

Stox 16




Posts

: 1064


Join date

: 2011-12-18


Age

: 62


Location

: Suffolk in the UK




Stox 16




Posts

: 1064


Join date

: 2011-12-18


Age

: 62


Location

: Suffolk in the UK



My friend Paul Harrison 2 holding the World Championship Cup he won in 2011 at Northampton. he beat the best drivers in the world at that meeting.

Stox 16




Posts

: 1064


Join date

: 2011-12-18


Age

: 62


Location

: Suffolk in the UK



THE GREAT FRANKIE WAINWAIN JNR IN HIS 515 CAR. THE ONLY DRIVER IN THE HISTORY OF THE SPORT TO WIN THE FOLLOWING
WORLD CHAMPIONSHIP 3 TIMES
THE NZ 240 CHAMPIONSHIP 2 TIMES
THE DUTCH GOLD CUP CHAMPIONSHIP 1 TIME
THE LONG TRACK WORLD CHAMPIONSHIP 1 TIME
THE EUROPEAN CHAMPIONSHIP
THE WORLD TEAM CHAMPS CHAMPION
AND WAS NATIONAL POINTS CHAMPION FOR 13 YEARS ON THE RUN

Stox 16




Posts

: 1064


Join date

: 2011-12-18


Age

: 62


Location

: Suffolk in the UK



Over the Years

i would say of all motor sport Brisca car F1 is just about the hardest Motor sport to race in in the UK today. as you need a great deal of skill and lots of very good lucky to with stand some 34 f1 cars trying to make its around the first few bends. as if you in the way they will remove you. its hard to corner and hold the racing line while someone is hitting you up the bum.

I took my Daughter and son at a very young age just like i was taken by my dear old mum who is 82 years old this year. she still asks who is winning each season just like she did when I was just 7 years old. back then London had some great tracks West Ham, that held the very first British championship in 1956 when Wilf Davis won the race in car number 14. there where other great tracks then at Bradford, Long Eaton, Harringay, Belle Vue, Coventry, White City and so on. as back then it was a working mans sport with very large crowds with so many people wishing to see it that many where locked out. but back then working people had very little money so it was a cheap sort of motor sport that any working man or evening woman could do. many families in say the East end of London would go to the footy and F1 stock car racing and still have money left over for the weeks food and bills.

I had many great days going with my mum and see such great drivers as Lee Wolenden who won the world championship in car 190 at Bradford. or the great Stuart Smith who is Andy Smiths dad win the world final in Belle Vue Manchester in 1984. then comes the greatest world champion of them all John Lund 53 a farmer who won it a record 9 times and still races today.


Stox 16




Posts

: 1064


Join date

: 2011-12-18


Age

: 62


Location

: Suffolk in the UK



Everyone should have a hobby.

oftenwrong

Sage




Posts

: 12062


Join date

: 2011-10-08



A Very interesting transfer in F1 with Hammilton moving to Mercedes. It must be the first time a Mercedes has nicked a Black person.

bobby




Posts

: 1939


Join date

: 2011-11-18



oftenwrong wrote:Everyone should have a hobby.
true and a great sport it is too. as I have been going since I was a little girl with my dad. they are great people and know how to enjoy themselves too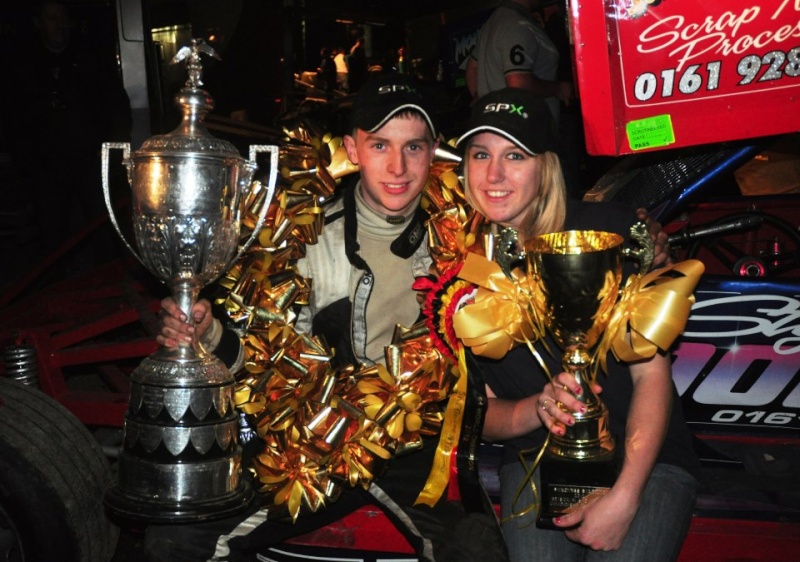 one of my own pix's

Red Cat Woman




Posts

: 175


Join date

: 2012-04-17



bobby wrote:A Very interesting transfer in F1 with Hammilton moving to Mercedes. It must be the first time a Mercedes has nicked a Black person.
yes it was bobby, Hammilton once shared a place to keep his car with one of our drivers. nice guy too

Red Cat Woman




Posts

: 175


Join date

: 2012-04-17



---
Permissions in this forum:
You
cannot
reply to topics in this forum