If you are unfortunate enough to get in a discussion with a UKIP supporter, the odds are that if that person feels cornered on the arguments in favour of the EU and immigration, he or she will move the goalposts and start talking about child abuse. You have to be sick to try to make political capital out of that, but nevertheless the 'argument' will be switched to the Rotherham scandal.
That, of course, is a perfect topic for UKIP. They can bash immigrants and imply, or even claim, that all paedophiles (rather than just a minority) are of Pakistani origin. And there's more. It's hardly surprising that mindless UKIP supporters, who eternally parrot "
LibLabCon
", "
EUSSR
" and "
we want our country back
", will blame everyone who votes Labour for the abuse, on the basis that a Labour council was in control of Rotherham at the time.
All issues are one-dimensional to UKIP boneheads and have simplistic causes. They don't consider that the police were hesitant about bringing prosecutions because they were too reliant on victims coming forward, and that when they did complain many of the potential witnesses were unreliable. No account is taken of the concern of the police that they would be labelled racist if they acted unsuccessfully against a number of people of the same ethnicity. No consideration is given to the sad fact that children are abused all over the country, and that there was another gang of abusers in Oxford. No, as far as many UKIP supporters are concerned, children were abused in Rotherham, Rotherham had a Labour council, so all Labour voters support paedophiles. I think that's the logical fallacy known as 'false cause'.
But maybe people who live in glass houses shouldn't throw stones:-
Former UKIP regional chairman Peter Entwistle jailed for grooming children
http://www.independent.co.uk/news/uk/crime/former-ukip-regional-chairman-peter-entwistle-jailed-for-grooming-children-9883013.html
Former UKIP candidate jailed in child sex case
http://www.lep.co.uk/news/local/former-ukip-candidate-jailed-in-child-sex-case-1-7012072
UKIP paedophile royal butler jailed for 12 years
http://www.hopenothate.org.uk//news/home/article/2964/ukip-paedophile-royal-butler-jailed-for-12-years
UKIP candidate - paedophile
http://liarsbuggersandthieves.blogspot.co.uk/2009/03/ukip-candidate-paedophile.html
Has Steve Crowther been covering up for a paedophile in the UKIP ranks?
http://juniusonukip.blogspot.co.uk/2013/12/has-steve-crowther-been-covering-up-for.html
All the indications are that the Westminster paedophile ring of the 1980s was predominantly, but not exclusively, Tory. I strongly suspect that its exposure has been prevented, or at least delayed, because the Tories are in government. I don't want to make political capital out of child abuse, but I do want to see the perpetrators brought to justice. All I'm doing in this post is countering the disgusting UKIP smear that somehow paedophilia is a Labour speciality. And although Labour councillors in Rotherham might well be accused of negligence concerning what occurred on their watch, I won't take any lessons from supporters of a party which has had candidates and officials who are 'hands on' child abusers.
There are some occupations that provide opportunities for gaining access to unprotected children - taxi driving can be one of them (as in Rotherham) entertainment industry can be another (as with Jimmy Saville et al). Politicians can be seen as being above reproach and can therefore have such opportunities


HOWEVER -- this does not mean that all taxi drivers, entertainers and politicians are child abusers - merely that those are occupations that give access, and may therefore be attractive occupations for individuals that want that access.

I believe in Rotherham most of the abusers were taxi drivers

boatlady

Former Moderator




Posts

: 3832


Join date

: 2012-08-24


Location

: Norfolk



It's a Police Matter - not for another political enquiry that kicks everything into the long grass after a couple of years have passed.

oftenwrong

Sage




Posts

: 12062


Join date

: 2011-10-08



Leon Brittan was under Met probe over claims of child sex abuse
From an article by Mark Conrad:-
Scotland Yard was investigating former home secretary Leon Brittan over multiple allegations of sexually abusing boys. The key allegations were that he was a member of the 'Westminster paedophile network'; that two unidentified men who were part of the network murdered a boy in front of him; that he sexually abused boys at the Carlton Club, in Dolphin Square and at the Elm Guest House.
For the whole article:-
http://www.exaronews.com/articles/5464/leon-brittan-was-under-met-probe-over-claims-of-child-sex-abuse
It's hardly surprising that when Geoffrey Dickens MP handed Brittan a dossier in 1983 about VIP paedophile activity, he managed to lose it. The dossier contained evidence of a horrific child abuse scandal, linked to Parliament, Buckingham Palace and other areas of public life. Peter Saunders, founder of the National Association for People Abused in Childhood, said: "
Perpetrators are still protected at the highest levels and I think it's disgusting. It goes right to the top. It's just a sordid issue that everyone has tried to keep under the carpet because it's too big
."
An extract from 'The Australian', 6 August 2015:-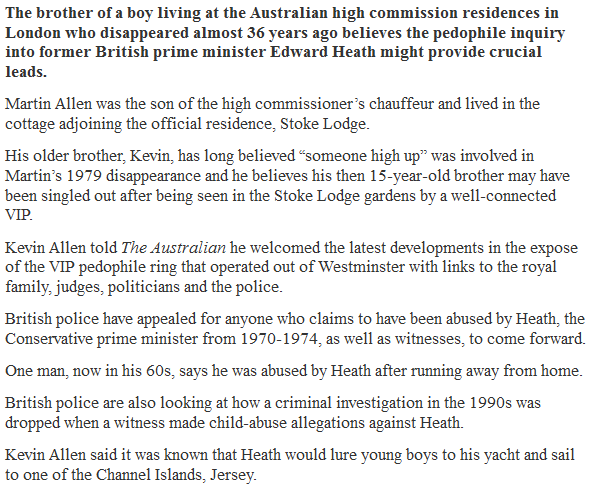 https://pbs.twimg.com/media/CNC4q1zWoAAVo_D.png
I blame God. The mechanism designed to ensure continuation of the human species through sexual congress is paramount.

Not everyone is capable of resisting that imperative even in what they should recognise to be unsuitable ways.

oftenwrong

Sage




Posts

: 12062


Join date

: 2011-10-08



This dates from the general election of 2010, the year before Savile died. Could those be the keys to Broadmoor that he's holding, keys which had been handed to him by Edwina Currie in 1988?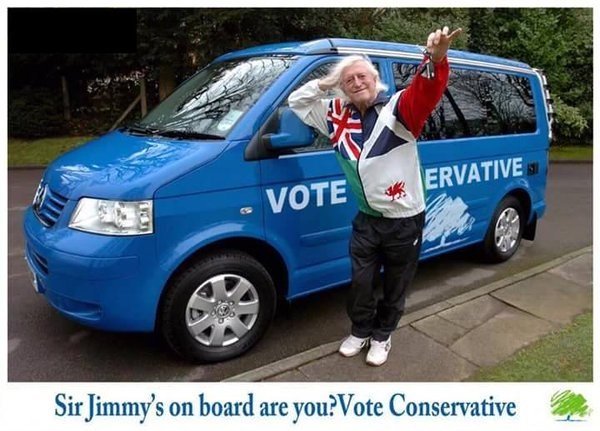 https://pbs.twimg.com/media/CbVF8G_W8AEAa5L.jpg
For some reason I'm completely unable to explain, photos of the Trump can put me in mind of Jim fixing it.

Powerful, alpha male imposing a singular view of things whilst courting popularity. Put it down to charisma.

oftenwrong

Sage




Posts

: 12062


Join date

: 2011-10-08



Margaret Thatcher "told of Cyril Smith abuse claims"
Thatcher was made aware of child abuse allegations involving Cyril Smith before he was knighted in 1988, cabinet office documents have shown. They included a warning of "the risk that such an award could give rise to adverse criticism".

Police had investigated Smith in 1970 for "indecent assault against teenage boys" between 1961 and 1966, but the DPP had decided "there was no reasonable prospect of conviction".
http://www.bbc.co.uk/news/uk-31789827
Do Republicans and pedophile priests share the same vile sexual morality?

It seems to be a question that I should have put to Republicans as they are exhibiting the same vile morality as pedophile priests and the religious who ignore morality to feed their tribal needs.

Do you see any difference in the immoral and unethical position of both groups?

How and why can people ignore their God's immoral ways?

I find it quite strange that Christian, Muslims and Jews can ignore the immoral ways that their God is shown to have in the Bible, Qur'an and Talmud.

If you have read any of the critical books on God, you will have seen God described with some rather disingenuous terms that, if applied to a man, would see that man executed by any moral government in quick order. The Buddhist saying that if you ever meet God, kill him seems quite fitting. Frankly, I think killing him without making him suffer for a time would be too good for him. If hell were real, that would be a better end for him as mankind would surely need to see that torture to gain real closure for God's crimes against humanity. This aside.

I can appreciate the value for society of local churches, mosques and temples but cannot fathom why lying priests, preachers and imams try to sell their God as a good God, when he is obviously more satanic than Satan. Perhaps scripture speak at least one truth in that the whole world would be deceived by Satan and his lying preachers and imams. Not that I believe in Satan.

As a Gnostic Christian, my focus has been to try to become a Parfait, a perfected moral man, using the methods Jesus taught. It has been a long climb up Jacob's ladder and apotheosis put me up one rung and I have tried to climb higher, but seem to have stalled due to my inability to find arguments that are persuasive enough to loosen Satan's grip on the minds of Christians, Muslims and Jews. Their need of fellowship is stronger than their work on their moral sense and they stay in their religions even though they know that their God is immoral and not worthy of their idol worship. This Gnostic Christian truth is not a flattering epithet for God, which is likely what cause their destruction by Inquisition.

The truth hurts the religious even when given with a loving touch. I am not that good at that but have seen good honest lovers of Christ get verbally abused by theists. They think hate is motivating those who speak against their God even when love is the motivator. Hate is born of love, and the Gnostic hate of God is justified on moral grounds, and the attempted correction of a believers moral sense and their thinking is done out of love. They forget that that is how Jesus was and how that love driven expression of hate with what he saw around him almost got him killed at the hands of the Jews. So the myth says.

The fact that I have had many theists resist entering into moral argument of their God indicates that they know that their God is immoral. I can appreciate that once a person accepts the fellowship that his tribal nature seeks, and he can survive without having better morals, he is loath to jeopardize the comfort zone he has created for himself. The problem is that theists are living in self-deception and for one who seeks or has attained Gnosis, a deeper knowing of himself, self-deception is basically not allowed. That is why I have to bother fighting a fight that is almost un-winnable.

If you have an answer to the question I posed at the onset, please enlighten me as I am quite disappointed to see so many living in self-deception and without Gnosis, and following Gods who are demonstrably more Satan like than God like.

In the terrible days that we will face from environmental degradation that will soon be upon us, a new and moral God will be required and we presently do not have one.

I recognize that our tribal and fellowship needs are quite strong and a part of our basic instincts. Do you have any idea as to how we can break Satan's hold on Christians, Muslims and Jews and change their fellowship and tribal needs to a need for a God with decent moral values?

Regards
DL

Greatest I am




Posts

: 1087


Join date

: 2012-04-25



---
Permissions in this forum:
You
cannot
reply to topics in this forum