"
Many people imagine psychopaths to be like serial killers in films. While it is true that some killers are psychopathic, it is also true that many more people in 'respectable' jobs have psychopathic qualities. Indicators include self esteem being derived from personal gain, power and pleasure, lack of concern for feelings, needs and suffering of others and a tendency to exploit, deceive and coerce. They may appear charming but this is superficial and used to manipulate as, ultimately, other people are prey
."
Those words from this book immediately made me think of Iain Duncan Smith, then George Osborne and then David Cameron. The author, Will Black, has worked in mental health care and quickly enlightens us on the difference between sociopaths and psychopaths. He says: "
Sociopaths are more chaotic and less able to control how they respond to the world than psychopaths, whose callous and exploitative approach to life is innate
". Dr Nigel Blackwood, of London's Institute of Psychiatry, adds that "
sociopaths can be viewed as hot-headed and psychopaths as cold-hearted
".
Estimates of the percentage of psychopaths and sociopaths in society range from 1% to 4%. The proportion of those with psychopathic traits is greater in certain professions, including banking, law and the media. This is hardly surprising, since psychopaths are attracted to environments where they can maximise their influence and rewards. The toxic power structures within our world are maintained by a culture industry intent on creating idiots with no intelligent thought processes, unable and unwilling to question their 'false democracy'. We're fed a flood of vacuous, talentless, glittering 'celebrities' to keep individuals in a state of permanent distraction.
Using his clinical knowledge, Black explains how people with psychopathy threaten us all if they assume positions of power and influence. From boardrooms and banks, to dictators, to the sexual abuse of children by celebrities and those in positions of power over them, he shows how psychopaths functioning in positions of power destroy lives. With the development of capitalism, they have been provided an environment where their superficial charm, charisma, ruthlessness and mastery of the big lie have enabled them to rise to the very top of nearly every profession that promises power and unimaginable wealth. You can see why I can't get those Tory politicians out of my mind - and why I recommend this book!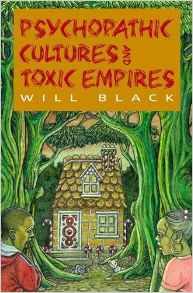 Paperback: 234 pages
Publisher: Frontline Noir
ISBN-10: 1904684718
ISBN-13: 978-1904684718
The author can be found on Twitter as @WillBlackWriter.
Confirming my suspicion that anyone who badly WANTS to be an MP may be unsuitable for the job.

oftenwrong

Sage




Posts

: 12062


Join date

: 2011-10-08



---
Permissions in this forum:
You
cannot
reply to topics in this forum