+6
bobby
oftenwrong
Ivan
blueturando
Redflag
skwalker1964
10 posters
Page 2 of 2 •
1, 2
First topic message reminder :
There are links in this article that you can view at
http://skwalker1964.wordpress.com/2012/12/13/cameron-at-a-time-when-people-accept-a-pay-freeze/
David Cameron said something today in Prime Minister's Questions that, even by his 'high' standards, was mindblowingly disingenuous.
Trying to ridicule and avoid Ed Miliband's (perfectly true) accusation that ordinary people will be worse off than ever under this government since George Osborne's Autumn Statement, and that Osborne's attempt to demonise people with closed curtains ignores the fact that most benefit claimants are working, and those closed curtains are probably because they were working nights, Cameron said this:
At a time when people accept a pay freeze, we should not be massively increasing benefits
This is deliberately misleading on so many levels it's untrue. Increasing benefits in line with inflation is not 'massively increasing', but simply maintaining benefits – which are anything but lavish – in real terms.
Capping benefit rises at 1%, as Osborne has done, is a real-terms cut, not any kind of increase. And remember, 60% of people receiving benefits are working people.
But the most staggeringly misleading part of the statement is the idea that people 'accepted' a pay freeze. The public sector pay-freeze was not 'accepted' by public sector workers – it was imposed by a government that left them with no choice and ignored their protests, even making plans to restrict union challenges to the cuts. Unions were livid about the freeze and did not 'accept' them by any stretch of the imagination, as even the right-wing Daily Telegraph acknowledged. Similarly, most private sector pay-freezes will not have been accepted by workers, but imposed by company boards.
It seems impossible, but somehow every time Cameron opens his mouth it becomes clearer and clearer that he's prepared to spout any lie, disinformation or hypocrisy for the sake of a soundbite or if it will help him avoid actually answering a question.
---
bobby wrote:Redflag. What also seems to be forgotten when playing the blame game (which I am now playing), is how the Evil Thatcher was quite happy putting redundant miners, ship builders and Steel workers on incapacity benefits in order to keep their unemployment figure to a mere 3 million and up to 3.8 million when John ( fancy a Currey) Major took charge. If a person is on incapacity benefit they don't have to make the regular trips to the Job Centre or evidence any form of Job Seeking, is it any wonder that the thousands who where thrown on the scrap heap for no other reason but to destroy any power base the workers may have had (Trades Unions). The hearts get ripped out of these people then they are called scroungers. How can they become strivers when their entire communities Towns and Cities are laid waste by evil Tory Dogma .If anyone should carry the blame for starting benefits to be used as a life style choice, surely it must be the people who firstly destroyed Britain's manufacturing, then encouraging their victims to become disabled as opposed to showing on their already massive unemployment figures.
What short memories some people seem to have.
Now Cameron and giddy Gideon are trying the same thing but the workers are paying twice, losing there job then being called skivers or scroungers it is true they are the nasty party, well there is 800 + from Honda cars and 1400 from Jessops I wonder what Cameron will call them much the same as the rest of the people that have lost there jobs and with high unemployment how are they expected to get a job. There is only one thing for it bobby people of the UK are going to have to get off there hands and let there voices be heard.
What gets me angry bobby is Cameron said the private sector would pick up the slack from the public sector, its the private sector where jobs are being lost and I do not believe him when he or his ministers say the they have got 1 Million people back to work more than likely its zero hour contracts or at best 15 hours a week which for a family is not enough earned to keep a family.

Redflag

Deactivated




Posts

: 4282


Join date

: 2011-12-31



Re: Cameron: "At a time when people accept a pay freeze"!

Just as you would expect, when most are finding it difficult to make ends meet, and are having to use Food Banks more and more, we have Herr Cameron's two best mates massively enhancing their pay checks. Boris Johnson has now got two part time jobs, He is now the MP for Uxbridge as well as the Mayor of London, as they are supposedly both full time jobs, how is he going to be able to manage them both. Or could it be that being an MP and the Mayor of London are in reality only part time jobs, only unlike the plebs part time jobs, he enjoys full time wages from both and expenses from both. Good work if you have friends in high places.
As for Gideon Osborne, he has been gifted a promotion as well as keeping to job he previously held, again two pay checks and double expenses.
It certainly pays to be a personal friend of Herr Cameron. He does at the expense of the poor, sick and elderly look after his millionaire crony's.

bobby




Posts

: 1939


Join date

: 2011-11-18



bobby
. Boris Johnson may have three jobs. As far as I know, he still writes a column for 'The Daily Telegraph', for which he gets paid £250k a year (something he described as "
chicken feed
"). Add to that £140k for being Mayor of London, and about £71k plus expenses for being an MP, and you have what Arthur Daley would have called "
a nice little earner
".
Thanks for that Ivan, I completely forgot.

bobby




Posts

: 1939


Join date

: 2011-11-18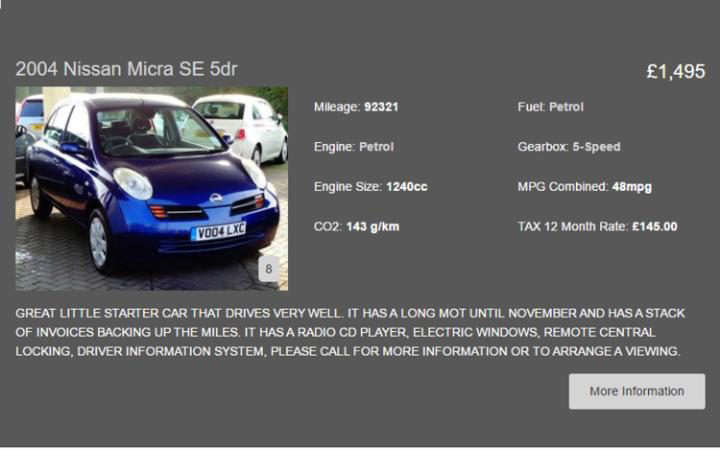 Prime Minister David Cameron has bought a used Nissan Micra costing £1,500 for his wife Samantha to use. Mr Cameron bought the blue, 2004 Micra from a used-car dealer in his constituency, the Witney Used Car Centre in Minster Lovell, Oxfordshire.
Good to see that the 90,000 miles reading was genuine. (Terms and Conditions apply)

oftenwrong

Sage




Posts

: 12062


Join date

: 2011-10-08



Finding that so difficult to believe - nearly as difficult as 'we're paying down the deficit'

boatlady

Former Moderator




Posts

: 3832


Join date

: 2012-08-24


Location

: Norfolk



Page 2 of 2 •
1, 2
---
Permissions in this forum:
You
cannot
reply to topics in this forum