+8
patakace
stuart torr
astradt1
boatlady
Phil Hornby
Penderyn
Dan Fante
Ivan
12 posters
Page 4 of 4 •
1, 2, 3, 4
First topic message reminder :
The political columnist Owen Jones has described 'The Daily Mail' as an "
almost farcically detestable rag
", while the American freelance writer Keith Kloor called it "
a bastion of melodramatic and scurrilous journalism
". Some might see those as understatements. It's been around since 1896, and it only took four years for it to begin to earn its reputation for showing scant regard for the truth or the consequences of what it prints. On that occasion, it was the false report of a massacre of Europeans during the Boxer Rebellion in China. 
In 1919, 'The Daily Mail' said that as so many men had died, lots of single women should be deported lest they "
spread lesbianism and adultery
". In 1924 it swung a general election to the Tories by posting, four days before polling, the outrageous 'Zinoviev letter' which was later proved to be a forgery. In 1938, 'The Daily Mail' was printing horror stories about German Jewish refugees "
pouring into this country
", pumping out the same vitriol that it reserves for asylum seekers nowadays. Only last spring, a column by Richard Littlejohn mocking transgender schoolteacher Lucy Meadows helped pile on bullying that sent her fleeing from her job, and it may have contributed to her suicide a few weeks later. Not surprisingly, over the years this so-called newspaper has been successfully sued by many people, including Alan Sugar, Diana Rigg and Elton John. 
It's been widely reported how 'The Daily Mail' printed an article accusing the late Ralph Miliband (a Jewish refugee who served in the British navy during World War Two) of "
hating Britain
". Wasn't that an obscenity? Stefan Stern writes: "
The paper that protests loudest of all about the freedom of the press is relaxed about smearing the dead and attributing views to someone that he clearly did not hold. In one sense this is all a compliment to Ed Miliband. If he weren't seen as a threat by the right, it is unlikely such excessive treatment would be handed out. But you suspect that even a lot of 'Daily Mail' readers will find this sort of spiteful behaviour hard to accept
." Of course 'The Daily Mail' "loves Britain" so much that its owner, who has a fortune of over a billion pounds, pays no tax here; the parent company, Rothermere Continuation Ltd, is registered in Bermuda. 
Owen Jones develops Stern's argument: "
This stomach-churning attack on Ed Miliband's father - and him by association - is a warning. The British right are preparing one of the most poisonous, vicious all-out wars against the left in post-war Britain. If this is how far into the gutter this wretched 'newspaper' is already willing to plunge, what's it going to be like six months before the election? The logic of the campaign is three-fold. Firstly, the right believe that Ed Miliband has veered off script, abandoning the free market fundamentalist consensus established by Thatcherism in favour of what - by historical standards - is pretty mild social democracy. Secondly, the right-wing media barons who set the terms of what is deemed politically palatable in Britain have never forgiven Ed Miliband for his endorsement of Leveson, which they believe is an unacceptable threat to their power. Thirdly, they think Labour under Ed Miliband could actually win the 2015 election
." 
Ed Miliband's father fought fascism, but 'The Daily Mail' supported it, both in this country (the paper's owner wrote an article in January 1934 entitled 'Hurrah for the Blackshirts' and praising Oswald Mosley), and also in Germany and Italy. Lord Rothermere was a friend of Benito Mussolini and Adolf Hitler, and directed the paper's editorial stance towards them in the early 1930s. He predicted that "
the minor misdeeds of individual Nazis would be submerged by the immense benefits the new regime is already bestowing upon Germany
". In October 1938, he sent this telegram to Hitler: "
My dear Fuhrer, everyone in England is profoundly moved by the bloodless solution to the Czechoslovakian problem. People not so much concerned with territorial readjustment as with dread of another war with its accompanying bloodbath. Frederick the Great was a great popular figure. I salute your Excellency's star, which rises higher and higher
." Nothing much changes; in April 2012, 'The Daily Mail' was supporting the fascist Marine Le Pen in the French presidential election. 
Don't let's pretend that we have a free press in this country. We have a bought press, owned by a handful of moguls who dictate the political slant of their papers, which is most cases is right-wing. 'Freedom' is not the same thing as 'licence', which is a more apt description of the irresponsible way in which 'The Daily Mail' operates. Jonathan Freedland commented in 'The Guardian': "
There are plenty on the left who have long believed the Mail to be a dark, brooding presence in British public life, churning out its daily diet of going-to-the-dogs pessimism. Now many others will see why. For attacking Ed Miliband via his late father, that newspaper has revealed its ugliest face
." As Owen Jones says: "
Anybody who wants to build a different sort of country - not a Britain treated as a plaything by wealthy barons who can't even be bothered to pay tax - needs to stand against this poison
."   
Stefan Stern gives us reason to hope that the excessive influence of such gutter tabloids may be waning: "
In a world of rapidly falling circulations, newspapers cannot afford to display contempt for accuracy and by extension contempt for their readers as well. The mainstream media, and especially the papers, are nothing like the force they were even five years ago. People get their news from a variety of sources, and then share and reinforce their views on uncontrollable social media
." 
In the 1930s, 'The Spectator' condemned Lord Rothermere's article supporting Mosley: "
The Blackshirts, like 'The Daily Mail', appeal to people unaccustomed to thinking. The average 'Daily Mail' reader is a potential Blackshirt ready made. When Lord Rothermere tells his clientele to go and join the fascists some of them pretty certainly will
." Isn't that an obscenity? 
Wikipedia defines an obscenity as "
any statement or act which strongly offends the prevalent morality of the time
". Hasn't 'The Daily Mail' been posting such statements throughout its history? The Obscene Publications Act of 1959 says "
an article shall be deemed to be obscene if its effect or (where the article comprises two or more distinct items) the effect of any one of its items is, if taken as a whole, such as to tend to deprave and corrupt persons who are likely, having regard to all relevant circumstances, to read, see or hear the matter contained or embodied in it
." Does 'The Daily Mail' corrupt the minds of those weak-willed souls who swallow the bile that it publishes, some of whom even go as far as regurgitating it on forums such as this one? Is it time that 'The Daily Mail' was banned? 
Sources used
:- 
http://en.wikipedia.org/wiki/Daily_Mail
http://labourlist.org/2013/10/the-daily-mail-is-a-scorpion-to-sting-is-its-nature/?utm_source=feedburner&utm_medium=feed&utm_campaign=Feed%3A+LabourListLatestPosts+%28LabourList%29
http://owenjonesramblings.tumblr.com/post/62811986074/be-prepared-the-right-are-preparing-all-out-war
http://www.theguardian.com/commentisfree/2013/oct/01/daily-mail-ed-miliband-father
http://www.legalweek.com/legal-week/blog-post/2136919/obscene-publications-acts
Further reference
:- 
http://www.newstatesman.com/politics/2013/09/milibands-defence-his-father-against-daily-mail-defining-moment
http://www.dailymail.co.uk/debate/article-2132611/French-elections-2012-Marine-Le-Pen-responsible-vote-France.html
---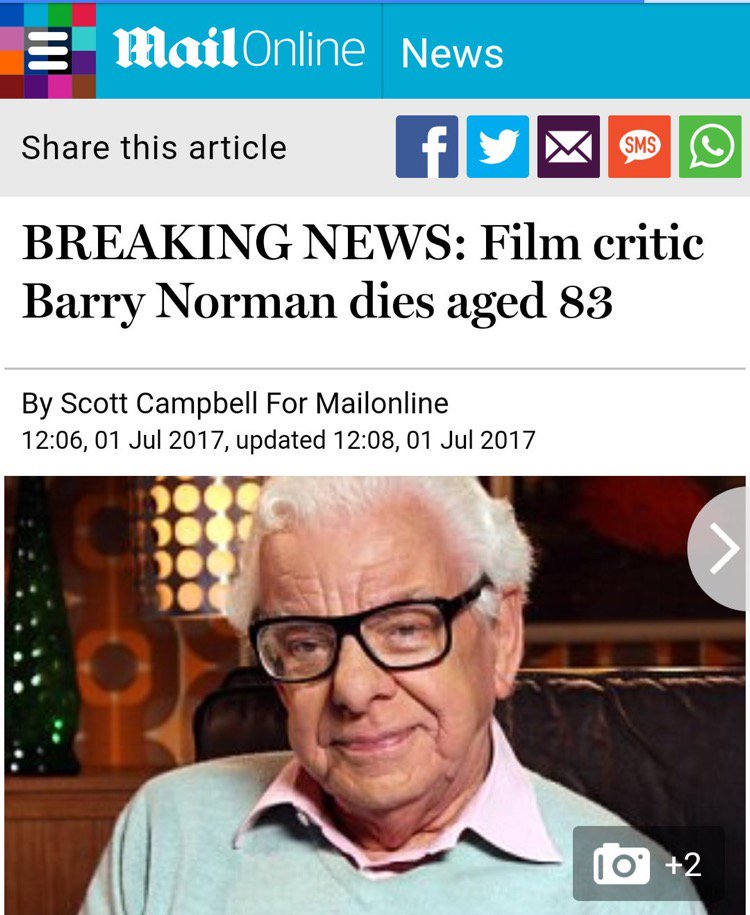 https://pbs.twimg.com/media/DDp3k2_XgAAA8h8.jpg
Presumably this 'Mail' error was not deliberate for once. The photo is of Barry Cryer, who is 82 years old and very much alive.

oftenwrong

Sage




Posts

: 12062


Join date

: 2011-10-08



While Britain freezes, the nation's newspapers seem to be having a slow day, as there are seven different choices of headline topic between 8 dailies.
This one seems the most likely to excite universal interest:

oftenwrong

Sage




Posts

: 12062


Join date

: 2011-10-08



Friday also shows several choices of main headline on British newspapers:

Threat to derail May's plan for a fixed-date Brexit: Mirror, "I".

Sun and Express would like to see Rebel Tory heads on pikes.

Mail fulminates about £33K for British Army treatment of Iraqi.

FT and Guardian lead on Fox sale to Disney.

The Times is cross about a failed rape-case trial.

and The Telegraph rails against C of E for "besmirching" name of late Bishop of Chichester.


oftenwrong

Sage




Posts

: 12062


Join date

: 2011-10-08



Should 'The Daily Mail' be banned under the Obscene Publications Act?
Yes

boatlady

Former Moderator




Posts

: 3832


Join date

: 2012-08-24


Location

: Norfolk



Sorry Daily Mail, Verhofstadt ain't no 'bureaucrat'
From an article by Luke Lythgoe:-
On 15 December, 'The Daily Mail' featured an opinion piece by Richard Littlejohn on rebel Tory MPs. The right-wing columnist isn't a fan. But while there's a place in Britain's press for stridently backing a specific viewpoint (some might call it ranting), even these opinion-based offerings need to be accurate. Littlejohn fell down on two counts.

First, he described the European Parliament's Brexit coordinator Guy Verhofstadt as a "bouffanted Brussels bureaucrat". Verhofstadt, who served as Belgium's prime minister for almost a decade, is now a directly elected MEP answerable to European citizens. The term "bureaucrat" is defined as "an official in a government department". Neither bureaucrat nor any of its synonyms, such as "civil servant" or "mandarin", are accurate descriptions of Verhofstadt's role as an elected representative – either now or when he was a prime minister. The term is particularly loaded in the Brexit debate. Brexiters often refer to bureaucrats to argue that the EU is anti-democratic. This glosses over the role of the directly elected European Parliament, of which Verhofstadt is a particularly vocal member, in keeping other EU institutions to account.

Secondly, Littlejohn wrote about "the result of the referendum – a result which most Labour supporters, particularly in northern constituencies, voted for in droves". But most Labour supporters didn't vote Leave. Two thirds of those who voted Labour in 2015 backed Remain, according to polling by Michael Ashcroft.

'In Facts' has raised both inaccuracies with 'The Daily Mail' and asked for a correction. At the time of publication, the newspaper had not provided a comment.
https://infacts.org/fake_news_posts/sorry-daily-mail-verhofstadt-aint-no-bureaucrat/

boatlady

Former Moderator




Posts

: 3832


Join date

: 2012-08-24


Location

: Norfolk



While rags like The Daily Mail continue to describe opponents of a Hard Brexit as "Enemies of the People" it is much easier to question their motives.

oftenwrong

Sage




Posts

: 12062


Join date

: 2011-10-08



Page 4 of 4 •
1, 2, 3, 4
---
Permissions in this forum:
You
cannot
reply to topics in this forum