+4
Penderyn
Chas Peeps
Claudine
sickchip
8 posters
Page 4 of 4 •
1, 2, 3, 4
First topic message reminder :

The UK has only ever held three nationwide referendums. The first two - in 1975 and in 2011 - gave very clear results. The third one has not done so. For every 17 people who voted to leave the EU, 16 voted to remain.

Ed Miliband was opposed to holding this referendum, which was more about placating the right-wing of the Tory Party than any 'national interest', and in any case, referendums are only advisory. Parliament is sovereign; after all, isn't that what Brexit supporters campaigned for? As 450 of our 650 MPs want us to remain in the EU, why don't they use their sovereignty to reject the referendum result? (It's also become evident that many Labour MPs believe their 'sovereign' opinions carry more weight than the views of the vast majority of their party's members.)

The Brexiters also campaigned to 'restore democracy' to the United Kingdom. What is 'democratic' about forcing Scotland, Northern Ireland and Gibraltar to leave the EU against the will of the majority of their voters? This constitutional disaster is the result of a reckless and irresponsible response by a weak PM to the divisions in his own party.

A despicable campaign of xenophobia and lies, including TV broadcasts which should have been banned by the Broadcasting Standards Authority, hoodwinked 51.9% of the 72.2% who voted into supporting Brexit. It's hardly surprising that millions of people have now signed a petition for another referendum, but that's not the answer. Referendums are an abdication of the responsibility which voters give to MPs when they elect them. What is needed is for 450 of those MPs to stand up for what they believe, exercise their sovereign power, and refuse to ratify the 2016 referendum result.
---
Ah, yes, indeed. "The Opposition Parties". All they have to do is unite. That will be the official opposition Labour - already divided against itself - the Greens with not exactly a surplus of MPs - Lib-Dems who now have NINE with the chipmunk - SNP - Ulster parties (Sinn Fein doesn't vote at Westminster) - Plaid Cymru; and probably quite a lot of British businessmen, who up to now have always supposed that a Tory government would be on their side.

Sounds to me like a recipe for Civil War.

Warts and all.

oftenwrong

Sage




Posts

: 12062


Join date

: 2011-10-08



That's the trouble with this half-witted vote - unlike silliness in a normal election, which we can argue about at once, it has become a strange religious concept called 'the National Will'. As we know, there is no such bloody thing, yet it is apparently to remain forever, like Original Sin or other absurd doctrines. Stuff it - it is a load of bullshit! Time to grow up and argue about real things, like increasing poverty.

Penderyn

Deactivated




Posts

: 833


Join date

: 2011-12-11


Location

: Cymru



There are 11 Supreme Court judges. If the pro-Brexit tabloids had their way, the current ones would probably be replaced with this lot:-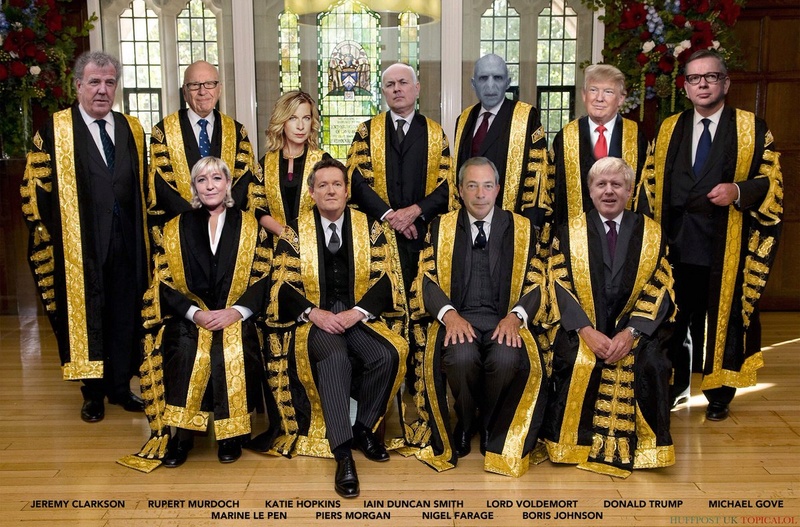 https://pbs.twimg.com/media/CzPzpQrWEAALkjM.jpg

oftenwrong

Sage




Posts

: 12062


Join date

: 2011-10-08



Page 4 of 4 •
1, 2, 3, 4
---
Permissions in this forum:
You
cannot
reply to topics in this forum