"
Ten years ago, the hills of Britain glowed with 500 beacons to signal a campaign for 'liberty and livelihood' in the countryside. About 400,000 people descended on London in chartered trains and buses, hunting horns blaring and whistles shrieking in the biggest demonstration since the poll tax disturbances of 1990: the aristos from their country estates; the poorer workers at their gates; and the nouveau hunting and shooting set
." 
That's what Peter Hetherington wrote for 'The Guardian' in 2012. He was describing how the Countryside Alliance mobilised supporters of foxhunting when what was to become the Hunting Act of 2004 was being discussed in Parliament. Its members claimed that 16,000 jobs would be lost and hundreds of hounds would have to be put down if hunting was banned, though in reality few jobs were lost. 
The Countryside Alliance was formed in 1997 from an amalgamation of the Countryside Business Group, the British Field Sports Society and the Countryside Movement. It says it now has around 105,000 members and claims to be "
the major British campaigning organisation on rural issues
", but what, if anything, does it really do apart from agitate to get the ban on hunting with dogs lifted? 
The Countryside Alliance claims not to be politically affiliated, yet it actively campaigned against Labour candidates in the 2005 and 2010 general elections. In a recent opinion poll, 66% of its members said they support the Tories, 13% said UKIP and 2% said Labour. Foxhunting is mainly a left-right issue, with most people on the left opposing it, but there are notable exceptions on both sides. Former Tory ministers Ann Widdecombe and the late Alan Clark opposed foxhunting, while Labour peer Ann Mallalieu supports it and, worst of all, Labour MP Kate Hoey is the chairman of the Countryside Alliance; the organisation's head office is in her London constituency. 
The executive chairman of the Countryside Alliance is the gloriously named Lieutenant General Sir Barnabas William Benjamin White-Spunner KCB CBE. He recently described the RSPCA as "
sinister and nasty
" because it brought some successful prosecutions against illegal foxhunting. White-Spunner urged members of the Countryside Alliance to stop donating to the "
once great institution
", saying that the charity is more interested in animal rights than promoting welfare. Quite how the 'welfare' of foxes is promoted by getting dogs to chase them and rip them to pieces beggars belief. 
Foxhunting has long been a minority pursuit in the countryside, even when it was legal. Professor Michael Winter, a member of the 1999 Burns inquiry which examined the consequences of a hunting ban, recalls: "
One of the things it showed was just how marginal hunting is to life in the countryside, most people are not involved
". The Countryside Alliance claims that its agenda is far broader than just hunting, but there appears to be very little evidence for that. The issues that concern most rural people are unaffordable housing and the decimation of bus services because of cuts to grants by Cameron's government. Another problem is that agricultural land prices are going through the roof as speculators exploit inheritance tax, capital gains loopholes and lucrative farming subsidies. Is the Countryside Alliance marching on Westminster to protest about those things? No chance. 
The only realistic conclusion about the Countryside Alliance is that it's nothing more than a front for arrogant psychopaths who enjoy the spectacle of killing animals. Foxhunting is illegal but its supporters think they're above the law – how dare Parliament or the courts or the RSPCA tell them what to do! The Countryside Alliance says "
it cannot be right that a large section of law-abiding citizens continue to live in constant fear of malicious prosecutions
". 'Law-abiding' when they break the law? 'Malicious prosecutions' of illegal activity?  
John Cooper QC puts their protests in context:- 
"If a group of burglars were to march on Parliament calling for repeal of the Theft Act for the restrictions that Act places on their nefarious activities, their calls would rightly be dismissed. If those who like to drive at racetrack speeds petitioned for a repeal of the Road Traffic Act, their campaign would be discounted as nonsense. And so it is puzzling why those with a desire to kill wildlife for 'sport' are given such a wide arena in which to campaign for repeal of the legislation which rightly places blood sports on the wrong side of the law.

The proscription of hunting followed an extensive and often exhausting campaign spanning nine decades. The determination of the League Against Cruel Sports and its supporters meant that while there were numerous twists and turns on the road which led to the Hunting Act, there was never a moment at which the campaign was questioned.

And so it should not be a surprise that the blood sports lobby, led by the Countryside Alliance and its more descriptively named predecessor the British Field Sports Society, showed utter determination to stop the passage of the law, and since they failed in that campaign, an utter determination to have the law overturned. Their difficulty, aside from the enormous public opinion firmly against them, is that every argument they put forward for repeal of the Hunting Act can be easily dismissed as spurious."
Sources used
:- 
http://www.theguardian.com/commentisfree/2012/sep/21/countryside-alliance-cares-liberty-not-livelihoods
http://www.countryside-alliance.org/ca/article/about-the-countryside-alliance
http://www.smallholder.co.uk/news/10782603.Countryside_Alliance_members_dropping_Tories_for_UKIP/
http://en.wikipedia.org/wiki/Countryside_Alliance
http://www.telegraph.co.uk/earth/countryside/10540076/RSPCA-has-become-sinister-and-nasty-warns-head-of-the-Countryside-Alliance.html
http://www.conservativesagainstfoxhunting.com/2010/12/john-cooper-qc-on-why-the-hunting-act-is-a-good-law/
Is the Countryside Alliance anything other than a lobby for the return of foxhunting?
Yes it is, (I am not a member.) If you had bothered to looks at their website you would know that:-
http://www.countryside-alliance.org/ca/

buckspygmy




Posts

: 27


Join date

: 2014-01-05



buckspygmy. If you had bothered to look at the sources at the end of my post, you might have noticed that I have visited the Countryside Alliance website. Apart from paying lip service to "concern for all rural issues", I can't find anything it has actually done other than make a lot of noise about foxhunting. If I've missed something of significance, here is your chance to enlighten me.
Well, err, they make sure field and farm gates are propped open when The Hunt is expected to come through. Also their marshalling of public roads may on occasion be impressive, though hunt-followers can prove quite innovative in creating a moving traffic-jam. They don't seem to mind being a caricature of themselves, which at least provides amusement for hoi-polloi.

oftenwrong

Sage




Posts

: 12062


Join date

: 2011-10-08



Ivan wrote:Apart from paying lip service to "concern for all rural issues", I can't find anything it has actually done
You can't have looked at their website, The CA is providing massive assistance to flooded out farmers and other rural dwellers, and you might not think so but campaigning to get fast broadband into rural areas is a VERY serious issue.

buckspygmy




Posts

: 27


Join date

: 2014-01-05



buckspygmy
. Don't call me a liar. The third paragraph in my opening post contains information taken directly from the Countryside Alliance website. And what was the picture on that 'about us' page, I wonder?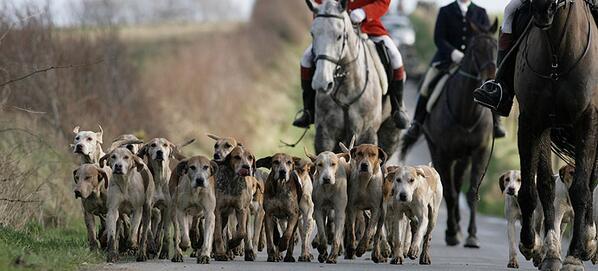 https://pbs.twimg.com/media/Bhff1mcCMAA64Gd.jpg
Come on, Ivan. It's fairly obvious buckspygmy meant that there was information about flood assistance on the website in question (and that you could have found it). As opposed to your literal interpretation which you've portrayed as an accusation that you are a liar.
Last edited by Dan Fante on Thu Feb 27, 2014 4:04 pm; edited 1 time in total (Reason for editing : For clarity)

Dan Fante




Posts

: 928


Join date

: 2013-10-11


Location

: The Toon



See how clever the CA are in confusing their critics?

oftenwrong

Sage




Posts

: 12062


Join date

: 2011-10-08



What I know about the Countryside Alliance is that (I think) Jill in the Archers was really pleased when it was formed, because she thought it would represent the interests of farm workers as well as the landed gentry type of people, and would help to publicise the significant differences between country life and city life.
That was back in 1997 - the argument as outlined by Jill in the Archers seemed quite convincing to me.

Next time I was really aware of the Countryside Alliance was the incident when they were calling the RSPCA sinister for wanting the LAW against hunting with dogs to be upheld.

I want the law against hunting with dogs to be upheld - I think blood sports are barbaric and should be outlawed in any civilised country - and if the government won't enforce them I'm fully in favour of a voluntary organisation like RSPCA getting involved.

Now, I read on the Countryside Alliance's website a very smug sounding announcement of the resignation of the RSPCA's director, or whatever he is, and I find myself wondering, with Ivan, whether in fact the Countryside Alliance is in fact a much more politically motivated organisation than it purports to be. It does seem possible that he was 'nobbled', and maybe that possibility is an interesting one, which as adults we could discuss without anyone getting too incensed.

I don't think the fact that they are providing a helpful message for people affected by the floods really provides evidence to the contrary - I believe even political organisations provide public service information when it will help to mobilise popular support - I'm sure the Hitler Youth for example washed windows and the like.

boatlady

Former Moderator




Posts

: 3832


Join date

: 2012-08-24


Location

: Norfolk



Ivan wrote:buckspygmy. Don't call me a liar.
I am not, merely point out you need to go to specsavers. I should also point out I would not urinate on either pro or anti fox-hunters if they were on fire unless I could urinate petrol.

buckspygmy




Posts

: 27


Join date

: 2014-01-05



If the Countryside Alliance were all that influential the n surely foxhunting would be legal
I'd be all for hunting with dogs if it meant chasing after pro-hunt brigade mind.

Dan Fante




Posts

: 928


Join date

: 2013-10-11


Location

: The Toon



---
Permissions in this forum:
You
cannot
reply to topics in this forum